THE ULTIMATE ZOMBIE THRILL RIDE!



Come in Houston, Do you copy?  Major changes this year !!!!!!!

The Zombie Apocalypse has hit the Lehigh Valley! You will board one of our special forces zombie destroyer vehicles equipped with semi automatic assault rifles (AKA paintball guns) that you will operate to shoot and destroy all infected zombies. Our military truck will take you on an interactive thrill ride in the dark with special zombie attracting lighting through infected areas of our 50 acre farm filled with live zombies but don't be scared as you will be on one of the finest 10,000 lb military vehicles money can buy and with special zombie ammo they will never have a chance to get close to you or your fellow soldiers.  This ride is kid friendly and fun for the entire family! 

New for 2019 you must enter operation purge and be cleared of all bio-hazards before you venture down under and get to the zombie destroyer vehicle. This brand new attraction is now part of our zombie thrill ride and includes the one and only accelerated outbreak scanner units in the country. You will be stunned and amazed as you make your way underground and to your final destination onto the zombie destroying vehicles. This new attraction is assured to awe even our most regular zombie shooters. If you want to see something new and different, this is a must do for this Halloween season. We strive to keep this as kid friendly as possible but please keep in mind that just like the ride there will be low lighting and fog effects in this new attraction.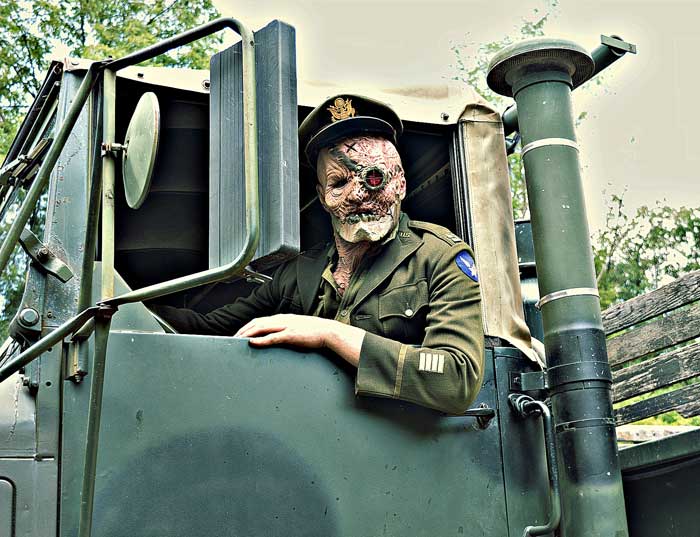 This ride is fun for the entire family even those that may not like our haunted side. Also enjoy our kid tower slides and camp fires when weather permits.
Is there an age limit to enter the event?
The Thrill ride has no age limit. As long as they can sit on the seat and pull the trigger. Anyone under the age of 13 MUST be accompanied by an adult. The haunted attractions are scary and is not recommended for anyone under the age of 8, although we will leave that decision up to the individual.
Is the Thrill Ride scary?
No, the thrill ride is not scary. Zombies do not come on the truck and they do not shoot back. The ride is done through the dark with limited lighting. It is completely separate from our Haunted attractions and can be boarded without coming in contact with any scary hillbillys.
Can I ride without shooting?
Yes but all riders must pay the regular rates.
What should I wear?
This is an outdoor event, dress accordingly. You must wear rugged shoes, no sandles, high heals or flip flops.
Are you open if it rains?
We  have covers for our trucks and will run if possible, but in order to find these flesh eating mongols, we need to drive the backwoods with steep terrain and safety is our first concern. We will post no later than 4pm on facebook and our website for that evening if we feel conditions will not permit us to run.
Do you take credit cards?
If you want to buy tickets with a credit card you must buy online as we only take cash at the event (ATM onsite)
Can I bring my own paintball equipment?
LVSP provides everything you need for the thrill ride and personal equipment is not allowed.
What is the refund policy?
No refunds for any reason.
Do you sell food and beverages?
Yes, there is a concession stand with food and drinks. Make sure to order the french fries that are home grown right on our farm!
How much ammo is included with the ride?
You get approximately 100 rounds to start and more can be purchased at the gate or on the truck ($5.00 for 50 or $10.00 for 100, cash only). Most riders buy an extra 100 rounds and if you buy at the gate it saves you from losing valuable zombie shooting time.
How long is the Thrill Ride?
Once you enter the bunker room, the entire ride is 30 minutes. Expect to be here for at least 1 hour for just the Thrill Ride.
When should I expect long lines?
Thrill Ride ticket holders should allow time to get through the ticket booth and get in line for the ride. Expect extended wait times Fridays and Saturdays in October. If you don't like long lines, buy your ride tickets for Sunday, or purchase the VIP.
What time do you open and close?
Please see our schedule page on our website www.lehighvalleyscreampark.com for the ticket booth opening times. The Thrill Ride and Hayride attractions will open promptly at dark and the haunted house will open 30 minutes after them. Our last Thrill Ride will leave no later than 11:00 PM. The Hayride and haunts close after the last customer goes through. No one will be left in after the ticket booth closes.
What is my parking options getting to the event?
Free parking is available on site.
What can/can't I bring to the event?
Lehigh Valley Screampark will provide everything you need for the Thrill Ride and personal equipment is NOT allowed. No food or alcohol allowed into the attraction.
Is my ticket transferable to another evening?
Yes, online ticket purchases can be used any evening of the current season.
Do I have to bring my printed ticket to the event?
Your ticket will be scanned in at the entrance so you must have either the printed ticket or the ticket on your mobile device.
The name on the registration/ticket doesn't match the attendee. Is that okay?
Yes, as long as you have a ticket for each individual entering.
Rules
No alcohol allowed on property
No firearms, backpacks, fanny packs or bags are permitted
Once on the property you cannot go back and forth to your car
No go pros or video is allowed